Ramen is one of Japan's greatest culinary treasures.
Together with soy sauce, salt, miso - the sweet tasting broth made from boiling pork bones called "tonkotsu", and most recently added our own chicken bone soup or simply fresh noodles without soup, they are all fascinating creations Ramen. Each delights with its own flavors and their popularity keeps growing and attracting people without limit.
Moreover, Ramen from local areas such as Hakata and Sapporo were created one after the other, offering the satisfying and pleasing taste to legions of Ramen fans. We can easily say that the attraction and desire for good Ramen has its very own potential to promote the development of the region.
Since "Menya Iroha" has been crowned champion at the Tokyo Ramen Show 5 times, as well as the popularity of the Japanese Ramen Culture, I believe my mission now is to deliver and broaden its magnetism to the world as a uniquely delicious representative of Japanese cuisine.
I would like to send out this message to all of my talented staff members, as well as to all fans who always support our Ramen: "It is time to brighten the world with Ramen".
Kiyoshi Kurihara,
President and Representative Director
Toyama Black Soy Sauce Ramen
"Toyama Black Soy Sauce Ramen" is a characteristic black color soup.
Many people may believe that Toyama Black Soy Sauce Ramen is salty when they see the picture, but actually the taste is surprisingly light and rich.
It has an excellent and robust flavor.
The secret of this dish comes from the soy sauce, called "Fish Soy", that is used in making the soup, it is relatively low in salt but rich in flavor.
We have used this soy sauce, which has been matured over many years, as the mystery ingredient which has accounted for its excellence since Menya Iroha began operating.
Together with the Fish Soy Sauce, we mix the Ramen with soup stewed with chicken round meats plus a seafood-based soup made from white shrimp and frigate mackerel.
These double stocks make a richer taste for Toyama Black Soy Sauce Ramen.
The Black Ramen made by Menya Iroha is the most delicious Ramen which you must try because it will likely be the best you've had in your life.
You cannot explain or truly understand Ramen without referring to Toyama Black Soy Sauce Ramen!!!
White Shrimp Ramen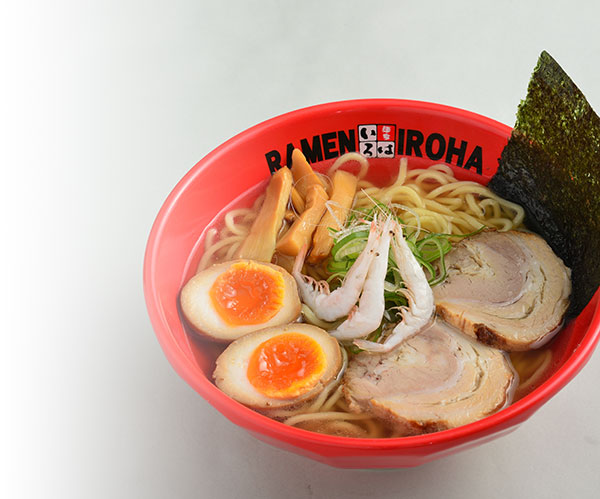 White Shrimp is a unique marine that only lives in the Toyama Bay.
It is known as a premium delicacy used for Kobujime (seaweed sandwiched fish), and sushi.
Once we reused its shell for soup stock, the brand-new ramen with full of rich nutrition, delicious taste of shrimp, and subtle flavor of the sea came to the world.
Besides, according to a survey of the Toyama Research Institute of Food, it was found out that the shell of white shrimp is fairly rich in taurine.
We believe that it will provide you not only a great taste but also many health benefits.
We especially recommend it to all women!
Super Spicy Tantan Ramen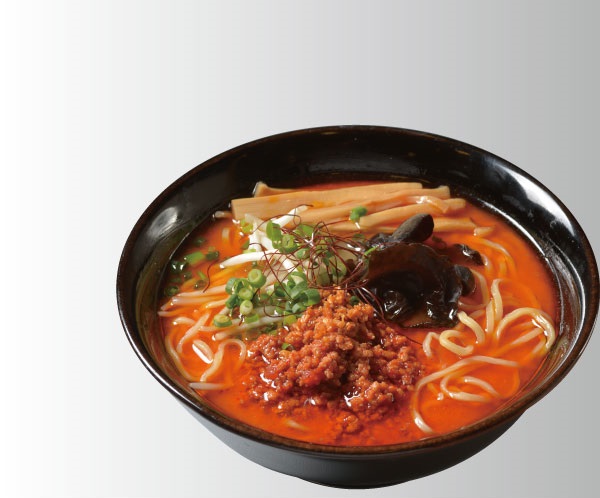 It is truly precious to savor our Super Spicy Tantan Ramen.
In this dish, yummy ramen noodles are swimming in a delicious, balanced soup made from a combination of homemade chili oil and spicy miso soup.
Its numbing taste and delicious broth will surely make you fall in love at the first taste.
Super Spicy Tan Tan Ramen will not betray your expectations!
Chewy homemade Ramen noodles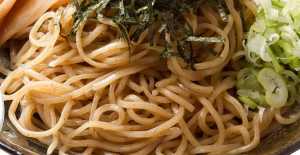 By brewing dough and letting it rise overnight, the dough will be tightened and chewy, create a subtle flavor complexity.
We use local buckwheat ingredients called "Yukichikara" from Toyama province.
It is rich in nutrition, have a strong natural scent of wheat flour.
While eating with soup, its smooth and hydrated noodles form a perfect delicious harmony to the dish.
Toro Toro Char Siu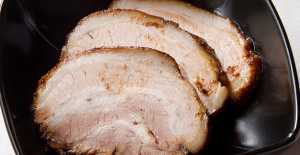 Toro Toro Char Siu is selected among the marinated braised pork belly, stewed for hours with our heirloom black soy sauce.
We are confident to say that its great taste and softness are always our pride.